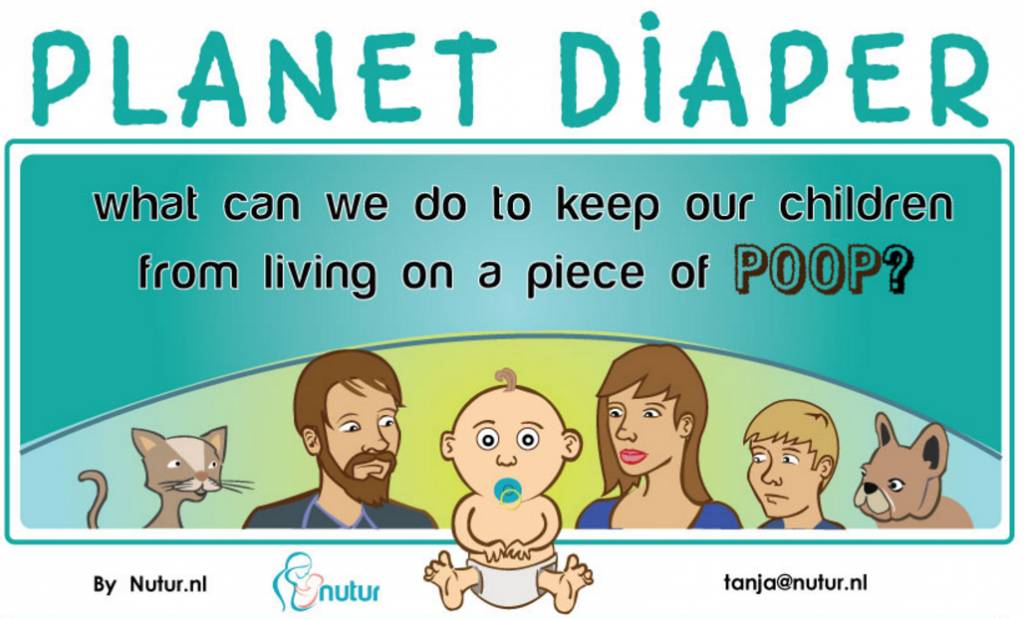 Planet Diaper - what can we do to keep our children from living on a piece of poop?
Disposable diapers are causing huge environmental problems worldwide. Disposable diapers are the number one landfill item worldwide. What can we do to prevent our children living on a piece of poop in the future? Learn here everything about disposable diapers and act now. Help us save our planet.

Transcript:
Planet Diaper
WHAT CAN WE DO TO PREVENT OUR CHILDREN FROM LIVING ON A PIECE OF POOP?
DID YOU KNOW THAT...
Disposable diapers are the world's #1 non-recyclable waste item in landfills?
In the US alone, 27,4 billion disposable diapers go to waste every year?
It takes over 500 years for just a single disposable diaper to decompose?
The disposable diapers your baby is wearing 24/7 are full of harmful chemicals - some of which cause cancer and other very serious illnesses?
Read on for further information about how devastating the problem is and what you as a family with young children can do today to help minimize the impact.
Disposable diapers are the number 1 non-recyclable landfill item on Earth. 27,4 billion disposable diapers per year in the United States. 501 billion disposable diapers per year worldwide.
On average, a child uses 5 diapers per day, this makes 5300 diapers over the entire diaper period. This makes 27,4 billion disposable diapers per year in the United States, 501 billion disposable diapers per year worldwide.
The length of a diaper is 10 cm when it's disposed of. For 501 billion diapers a year, you'll have a length of 50,1 million km. Divide that by the earth circumference of 40.075 km is 1250 times.
To produce disposable diapers for one baby per year:
220 kg of CO2 is emitted
More than 136 kg wood
22 kg of crude oil
9 kg of chloride
130 kg plastic
200-400 kg wood-pulp
For a year's supply of diapers worldwide:
3.6 million trees are cut
43.4 thousand barrels of oil are needed
13.4 million barrels of
13.4 million barrels of chlorine are used.
Time for 1 diaper to decompose (estimate): 500 years - 6 generations
We expect the waste from today's disposable diapers to decompose in 2416.
24/7=2.5 YEARS
For almost 3 years, your baby wears diapers almost 24 hours a day. The most sold diapers are a high-tech chemical product and full with unnatural substances to keep your baby dry. Toxic materials that are used for diapers are:
Polypropylene / Polyethylene
Dioxins
Chlorine
Hot-melt adhesives
Ink
Dyes
Fragrances
Phthalates
Super Absorbent Polymer (SAP)
Disposable Diapers are big business! The cost of a single diaper is on average 20 cents. An average family spends USD 1900 a year on diapers. The global disposable diaper industry is estimated to reach an astonishing USD 50 Billion per year in 2017.
THE SOLUTION! WE NEED YOUR HELP! What you can do to help (and save serious $$$ along the way).
Change fewer diapers and start early with potty training.
Use disposable diapers that are biodegradable.
Change to washable diapers. Better for your wallet, your baby's health, the environment and babies are potty-trained faster.
Collect your diaper waste separately, (check this with your city council).
USE FEWER DISPOSABLE DIAPERS
Great! You've come this far and now you know that disposable diapers are really bad for the environment. Checking the diaper regularly and only change it when it is necessary helps a lot already. Every diaper that is used less adds up!
BE AWARE OF THE IMPACT AND ONLY CHANGE DIAPERS WHEN NECESSARY.
Try using eco friendly diaper brands as much as possible. Although the system is still not perfect - eco friendly diapers use much fewer natural resources and chemicals than the normal household brands. Even though they might not be the best solution in terms of environmental impact, they are certainly better for your baby's health.
Good examples are NATY & BAMBO. If you live in Australia, the best option is ECORIGINALS
COST COMPARISON
Disposable
Cloth
You should seriously consider washable diapers if you want to save money and the environment. In recent years, washable reusable diapers have made a silent comeback and they are nearly as convenient as disposable diapers. You can save serious money along the way as well.
When you choose a washable diaper, you can save quite a lot of money on your annual costs. Please note that you should compare the prices over the total period your baby wears diapers. For this period, you can save at least EUR 500 per baby, (including all extra costs for washable diapers, but excluding extra costs if you have to pay for more garbage waste.)
WASHABLE DIAPERS ARE FAR MORE ENVIRONMENTALLY FRIENDLY THAN DISPOSABLE DIAPERS
Compare the environmental impact of disposable diapers to washable diapers.
The CO2 emission of washable diapers is 1,5 times lower than disposable diapers. To air dry washable diapers is even better for the environment and your energy costs as well. In that case, the CO2 emission is 2,5 times lower.
GET INVOLVED!
Get information at your local municipality about disposable diaper waste. The key is a change in the system to allow recycling of diaper waste. We can start using compostable diapers today. They will need to be disposed of separately. There are already many local initiatives - check with your local city council!
Talk to your town waste department
WE NEED YOUR HELP!